Fares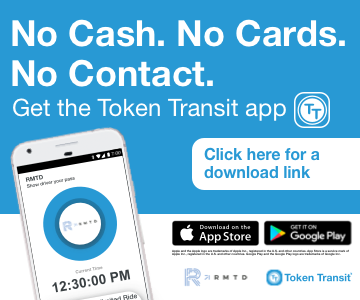 8.10.2020 Introducing Token Transit … A New Way to Buy Passes
Starting Monday, August 10, 2020 RMTD riders will have a new way to purchase fares. Anyone with a Smart phone will be able to download the new Token Transit app from either Google Play Store or the App Store. Once downloaded, a few simple steps are all it takes to purchase fares from your phone.
Select RMTD, Rockford, IL from the list of Agencies
Select rider profile
Select your fare type and hit confirm
Set your payment by adding your debit or credit card information
Click on Confirm Choice, then Confirm Purchase
When ready to use the fare, click on the pass on your phone. NOTE, clicking the fare activates the pass and the time available starts counting down.
Show this to the driver when you board the vehicle. Easy Peasy!
For more information, click here https://www.youtube.com/watch?v=HkCrnygSaoI for the Token Transit video
Cash Fares
Adults (12 years & older) – $1 .50
Children (under 5 must be accompanied by an adult) – FREE
Children (ages 5 thru 11) – $0.75
Students ages 20 years and younger – $0.75
(To qualify for the student fare, a student must be able to show a valid school ID or valid RMTD photo ID)
Disabled Citizens (with valid RMTD photo ID)* – $0.75
Disabled Citizens enrolled in Illinois Benefits Access program* – FREE (with valid RMTD photo ID)
Senior Citizens (age 65 and over with valid RMTD photo ID) – FREE
*Any person with a Medicare Card can qualify for reduced fare service on the RMTD system. Click below to complete the form for an RMTD Disabled ID. Bring the completed form and $5.00 to either RMTD Transfer Center and RMTD will issue the Disabled ID.
Below is the link for information and enrollment in the State of Illinois Benefits Access Program.
https://www.illinois.gov/aging/BenefitsAccess/Pages/default.aspx
Ticket Fares
Adult Single Ride Ticket – $1.50
Disabled Half Fare Single Ride Ticket – $.75
Adult Ten Ride Tickets – $15.00
Student, or Disabled Citizen Ten-Ride Ticket – $7.50
NEW!! All Day Unlimited Ride Saver Pass – $3.00
NEW!! All Day Unlimited Ride Half Fare Saver Pass – $1.50
7 Day Unlimited Ride Saver Pass – $16.00
30 Day Unlimited Ride Saver Pass – $55.00
(Not transferable. Unlimited Ride passes may only be used by the purchaser. Valid only on RMTD)
Transfers
Transfers are good for one hour and should be used on the first bus passing the transfer point. Transfers are issued anywhere two RMTD bus routes meet or cross over.
Zone Fare
Any passenger boarding or alighting the #19 CherryVale route will be asked to pay the additional $0.25 Zone Fare. Bus passes not accepted in Zone Fare.
Fare Requirements
All tickets are non-refundable and can be redeemed for rides only.
Any person with a Medicare Card can qualify for reduced fare service on the RMTD system.
Any person with a Medicare Card enrolled in the Illinois Benefit Access Program can ride for free.
Riders must first obtain the appropriate RMTD photo ID.
RMTD drivers DO NOT carry change.
Senior Citizens
Senior citizens 65 and older may ride for free if they have an RMTD photo ID card. The cost for the ID card is $5.00. Seniors must present proof of age, complete the form below and pay the $5.00 fee in order to obtain the card. Click here for the form to complete and print out.
Student ID Cards
RMTD operators will only accept area middle school and area high school issued ID cards. All students attending other institutions of learning including advanced learning facilities such as Rock Valley College, Judson College or Rasmussen College or alternative education programs, must have an RMTD Student ID card to qualify for the student discounted rate of $.75. To obtain an RMTD Student ID card, a student must come to the downtown transfer center and verify his or her enrollment in an educational program by presenting a current class schedule or transcript. The student must also be able to verify that he or she is 20 year of age or younger during the current school year. The cost of an RMTD student ID card is $2.00.