News
THE NEW BUSES ARE HERE!
The Rockford Mass Transit District is pleased to announce that the District has purchased and taken possession of five (5), 35' diesel hybrid electric buses that were ordered in April 2019. The buses were purchased from the Gillig Corporation, Hayward, CA, and have started arriving at the District's 520 Mulberry Street facility.
The cost of these vehicles is $719,167.00 per bus. These vehicles are funded with a combination of state and federal money. No local funds were used for this purchase.
The new buses will utilize Series-ER electric hybrid technology from BAE Systems, which is a combination of a smaller diesel engine and an energy storage system. This technology will result in up to a 25 percent reduction in fuel consumption and close to a 90 percent overall reduction in emissions from the buses they are replacing.
The electric hybrid technology is ideal for the demands of transit operation because it allows for the diesel engine to go off operation and into electric mode when the vehicle is stopped. These vehicles can also be programmed or geo-fenced to go into electric mode and run on clean energy in designated areas such as schools, medical facilities or population dense areas of our city. When running in electric mode, there are zero emissions coming from the bus. With less diesel engine use, the hybrid electric buses also help reduce fuel expenses and the frequency for brake changes and other engine component replacements, further reducing maintenance costs for the transit operator.
BAE Systems' Series-ER system uses an efficient, power dense on-board energy storage system to power the buses. With increased capacity, the system provides extended electric travel time and distance without the need for the buses to stop and recharge. This allows buses to run longer on electric power and eliminates the need to add large and costly charging infrastructure.
These diesel hybrid buses replace five (5) of the 2007 NABI buses in the District's fleet. FTA requirements allow for rolling stock replacements after twelve (12) years of service. RMTD has nineteen (19) NABI vehicles that can be replaced under this guideline. The District plans to continue replacing the remaining fourteen (14) vehicles with funds obtained through a combination of federal competitive grant programs, federal formula funds and new state capital program funds.
The American Public Transportation Association (APTA) notes that communities that invest in public transportation reduce the nation's carbon emissions by 37 million metric tons annually. "Rockford Mass Transit implemented a sustainability policy early in 2018 which included our commitment to adopt alternative fuel technology vehicles to reduce greenhouse gas emissions and to increase energy efficiencies with our fleet," states RMTD Executive Director, Michael Stubbe. "As we start 2020, RMTD is happy to announce that the District is taking the first steps toward enhancing the quality of life in our community by implementing this environmentally sustainable technology."
Other important new features on the buses include the Quantum automatic wheelchair securement system by Q'Straint, which gives complete independence to mobility passengers; enabling them to secure themselves in less than 25 seconds with the simple push of a button with minimal driver assistance and USB ports in the passenger seating areas.
The five (5) buses will begin operation in February when installation and maintenance and operator training are complete.
In addition to introducing the new, electric hybrid technology to the community, Rockford residents will also notice that RMTD is sporting a new color scheme and logo. The colors and logo seen on the buses are the first stages of RMTD's rebranding campaign. Once the five (5) new buses hit the streets, RMTD will continue to introduce the remaining new elements of its campaign throughout the late winter and early spring, including stationary, signage, updated web site graphics and new uniforms for the operators.
The new logo represents the mobility options provided by RMTD that help connect the community together. The new logo was created by local agency GrahamSpencer.
For more information on RMTD's new vehicles, please contact:
First Contact: Michael Stubbe, RMTD Executive Director @ 815.961.9000
Second Contact: Lisa Brown, RMTD Marketing & PR Specialist @ 815.961.2226
Our Job Is Getting You to Yours
Public transportation is an important component of urban sustainability, reducing our community's carbon footprint, improving air quality and increasing accessibility to key quality of life assets in the Rockford Region. At Rockford Mass Transit District, the efforts of many dozens of people combine each day to help our passengers get where they're going. Whether it be shopping, learning, healing, working or more, we're here for you when you need us. Come aboard and join us on the road less traveled at Rockford Mass Transit District. The men and women of RMTD are looking forward to seeing you soon.
Rockford Mass Transit District Re-Opens Downtown Transfer Center 
At 5:00 a.m. on Monday, February 11 2019, Rockford Mass Transit unlocked the doors and welcomed the public into the newly renovated Downtown Transfer Center. The building's opening marks the substantial completion of Phase I of the two-phased renovation project. Phase II, which involves the re-design of the outside bus berthing and customer waiting area will continue into the spring with an estimated completion date of May 2019.
The renovated Transfer Center is a much brighter and larger facility than what previously occupied the space thus making for a more pleasant customer experience. As a result of the larger footprint, customers with wheelchairs or other mobility devices will find it easier to navigate through or stop and wait in the facility. RMTD has also added enhanced Information System Displays in key locations in the building. Charging stations have been added and are conveniently located for passenger use. A family restroom is also a new addition for families in transit with small children. RMTD staff will also benefit from the newly installed touchscreen computer system which will allow for a quicker and more efficient bus dispatch.   
The safety and security of our riders is of utmost importance to RMTD, therefore improved security cameras have been added throughout the building and a designated security office will enhance security's presence in the building and on the grounds.
With the new facility opening and the drive work continuing at the north end of the property, passengers will now be asked to board and alight their respective buses on W. State Street rather than Mulberry Street. Buses heading East bound will board from the South side of West State and West bound buses will board from the North side of West State. West State will be closed to through traffic between Court Street and Winnebago Street until the completion of Phase II. Mulberry Street, between Court and Winnebago, which was previously closed, will now be open to through traffic.
The opening of the newly renovated facility represents substantial completion of Phase I. Phase II, which is ongoing, will see the berthing areas and the surrounding drive areas reconfigured into a saw tooth configuration. A saw tooth design enables buses to pull in and out without having to backup. This pattern insures a more efficient and safer dispatch. With the completion of Phase II customers can also expect improved outside lighting, additional and improved security cameras, wayfinding signage and a more accessible boarding areas with canopies for protection against the elements.
501 W State is Officially Closed
As of 2.6.18: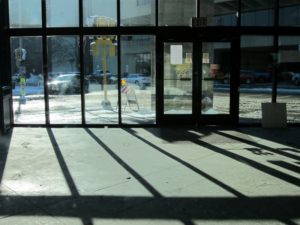 As of this morning 501 W State is officially closed.  Seating has been moved over to the Temporary Transfer Center and all that's left is the mechanicals. Those should be out by the end of the week.  The temporary facility is already in use.  It is a lot bigger than we originally thought and also very bright.  All the same transactions can take place here.  The entrance is on the West side of the bldg.
It's getting real.  Felt a bit nostalgic as I snapped some of the photos of the empty transfer center.
WHAT YOU NEED TO KNOW ABOUT THE DOWNTOWN TRANSFER CENTER RENOVATION!
As of 2.1.18:
RMTD will officially start renovating the Downtown Transfer Center on Tuesday, February 6, 2018. On February 6th, the bldg. at 501 W. State will close and all Transfer Center activities will move to the Temporary Transfer Facility at the SW corner of Mulberry and Court between Winnebago and Court.  The temporary facility will function in exactly the same manner as the Transfer Center.
In addition to the opening of the Temporary Transfer Facility we will begin dispatching all buses from Mulberry Street on February 6, 2018. At that time, Mulberry will be closed to all traffic except RMTD vehicles.   To find out where your bus is, use this map.  bus dispatch map
 Listed below is information you may find helpful as we make this transition. Please do not hesitate to contact us with any questions you may have.  Also please follow the progress of this exciting project on Facebook or follow Busalerter1 on Twitter for all the exciting news and progress.
Here are some things you might want to know:
The temporary facility will be open and staffed the same hours as the 501 W. State Bldg.
There will be seating in the temporary facility
You can still buy passes, get schedule books and ask questions at the window in the new facility
It is ADA compliant – wheelchair passengers can access the facility via the ramp on the West side
There are ADA compliant toilets in the temporary facility
Security will still be on site and we will still have cameras monitoring the property
Vending is now located on the outside of the facility on Mulberry Street although only soda will be available until the new building is finished.
Photo IDs will be still be taken at the downtown facility however they may not be up and running until Wednesday, February 7th. The East Side Transfer Center can create ID's if this is an inconvenience for anyone.
The bus arrival board will not be functioning, therefore PLEASE PAY CLOSE ATTENTION TO THE TIME. Don't miss your bus.
Here's what our beautiful center will look like when it is all done!