News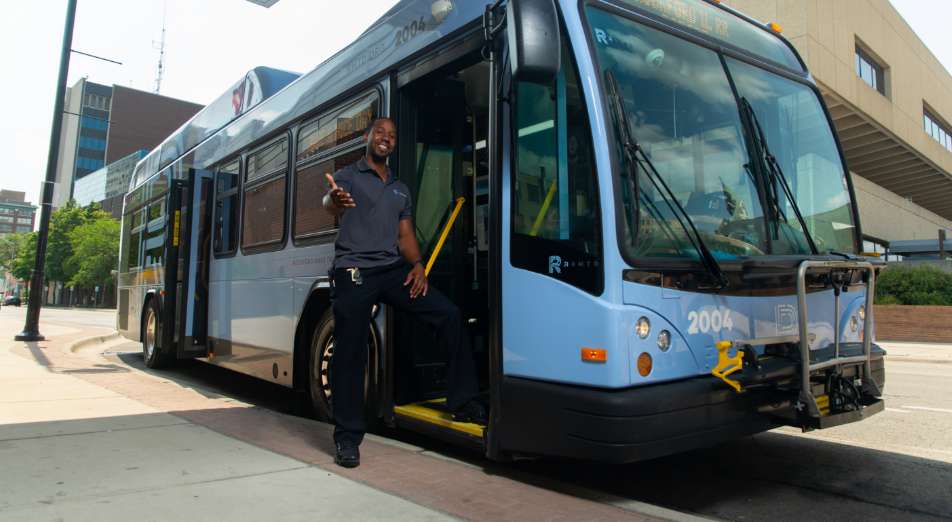 FOR ALL THE LATEST RMTD COVID-19 INFORMATION Click Here.
RMTD Embraces Sustainability for the Health of Our Community.
Rockford Mass Transit District is committed to the environment and enhancing the quality of life in our community. That's why we embrace environmentally sustainable practices whenever financially feasible. In recent years, we have taken bold strides toward reducing greenhouse gas emissions and increasing energy efficiency with our fleet, our facilities, our operations and our staff. You can see these actions in the green-focus of the design of our new Downtown Transfer Center and most dramatically in our fleet itself.
In January of 2020, RMTD introduced to its fleet and our community five beautiful new hybrid electric buses. The state-of-the-art buses, purchased from Gillig Corporation, an American company based in Hayward, Ca, represent our first step toward replacing some of RMTD's aging fleet with environmentally friendly vehicles.
Our efficient new hybrid electrics reduce fuel consumption by 25% and emissions by a whopping 90%. They are cleaner and quieter and the perfect canvas for RMTD's dramatic new brand identity with its striking periwinkle blue and slate gray color scheme. Additionally, using geo-fencing technology, the new bus can be programmed to engage full-electric mode when entering carbon noise-sensitive areas such as downtown or narrow neighborhood roadways. This helps reduce noise pollution and further improve quality of life for the people we serve.
In 2020, despite the trials and tribulation of the coronavirus pandemic, RMTD was able to continue it sustainability commitment and place an order for 5 additional hybrid-electrics. Those buses arrived in Rockford in early 2021 and are now in the field every day, coloring our world: making our fleet greener and "periwinkler" at every turn.
CITY OF ROCKFORD AND RMTD ANNOUNCE FREE RIDES FOR VETERANS AND STUDENTS
The City of Rockford and the Rockford Mass Transit District announced on Monday, December 20, 2021 that starting January 3, 2022, veterans and students K-12 will be able to ride on the RMTD Fixed Route System for free.
Students in grades K-12 need only to show their school ID cards to the drivers as they board the buses. If they attend a school that does not issue an ID card and are in grades K-12, they can purchase an RMTD Student Free Ride ID card for $2.00 at either of our Transfer Center locations and show this to the driver as they board. They must present proof of Identity and proof of enrollment in a K-12 program to get and RMTD photo ID
Our veterans will also need to obtain a Free Ride Veterans ID to identify them as a veteran. Once they have that ID card, they also need only show this to the operator to get a free ride. To obtain an RMTD ID card veterans can go to either RMTD transfer center and present proof of identity and proof or military service. Due to a generous donation from the community member at large, the cost of the $5.00 ID fee has been paid for the first 50 veterans who come to get an ID card.