Construction News
As of 2.6.18: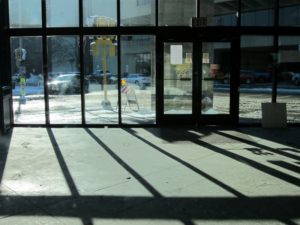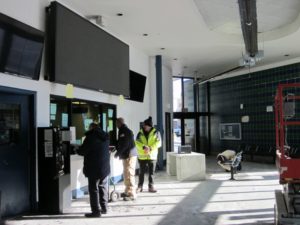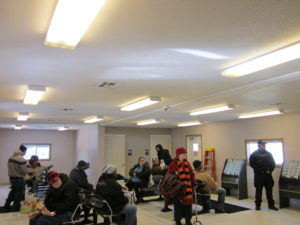 As of this morning 501 W State is officially closed.  Seating has been moved over to the Temporary Transfer Center and all that's left is the mechanicals. Those should be out by the end of the week.  The temporary facility is already in use.  It is a lot bigger than we originally thought and also very bright.  All the same transactions can take place here.  The entrance is on the West side of the bldg.
It's getting real.  Felt a bit nostalgic as I snapped some of the photos of the empty transfer center.
As of 2.1.18:
WHAT YOU NEED TO KNOW ABOUT THE DOWNTOWN TRANSFER CENTER RENOVATION!
RMTD will officially start renovating the Downtown Transfer Center on Tuesday, February 6, 2018. On February 6th, the bldg. at 501 W. State will close and all Transfer Center activities will move to the Temporary Transfer Facility at the SW corner of Mulberry and Court between Winnebago and Court.  The temporary facility will function in exactly the same manner as the Transfer Center.
In addition to the opening of the Temporary Transfer Facility we will begin dispatching all buses from Mulberry Street on February 6, 2018. At that time, Mulberry will be closed to all traffic except RMTD vehicles.   To find out where your bus is, use this map.  bus dispatch map
 Listed below is information you may find helpful as we make this transition. Please do not hesitate to contact us with any questions you may have.  Also please follow the progress of this exciting project on Facebook or follow Busalerter1 on Twitter for all the exciting news and progress.
Here are some things you might want to know:
The temporary facility will be open and staffed the same hours as the 501 W. State Bldg.
There will be seating in the temporary facility
You can still buy passes, get schedule books and ask questions at the window in the new facility
It is ADA compliant – wheelchair passengers can access the facility via the ramp on the West side
There are ADA compliant toilets in the temporary facility
Security will still be on site and we will still have cameras monitoring the property
Vending is now located on the outside of the facility on Mulberry Street although only soda will be available until the new building is finished.
Photo IDs will be still be taken at the downtown facility however they may not be up and running until Wednesday, February 7th. The East Side Transfer Center can create ID's if this is an inconvenience for anyone.
The bus arrival board will not be functioning, therefore PLEASE PAY CLOSE ATTENTION TO THE TIME. Don't miss your bus.
Here's what our beautiful center will look like when it is all done!