2018 City Market Trolley
Summer time and the living is easy.  And so is coming downtown to the Rockford City Market which opens Friday, May 18, 2018.  Another great season of food, friendships and fun is upon us and we encourage everyone to come down to the City Market and utilize the park and ride trolley. Or, simply enjoy a trolley ride around our beautiful downtown.  Trolley rides are free so hop on.  Click below to see when the next trolley will be at your stop or call 815.961.9000 for more information.
Transit Week Spotlight Employees:
Monday, May 14, 2018 kicks of National Transportation Week.  To celebrate Transit Week RMTD is going to be shining the spotlight on some of our loyal riders and some of our hardworking employees.
Thursday, May 17, 2018 – Daniele Wilburn
Daniele started at RMTD 7 years ago as a part-time office assistant for the P
aratransit office. After a year in this position she was promoted to Paratransit Dispatch Supervisor, a position she has held now for over 6 years.  Daniele thinks the best part of her job is the fact that Paratransit takes people with disabilities to so many places they might not otherwise have access to.  Their quality of life is some much better when they can get out in the community on Rockford Paratransit.  Daniele likes being a part of that and enjoys hearing about these trips from satisfied passengers.
During her 7 year tenure at Rockford Paratransit, Daniele has seen a lot of changes but perhaps the biggest change is unfolding each day with the construction of the new Downtown Transfer Center. It is exciting to see it all come together was her comment when asked about this. Each day something new happens.
If Daniele were a super hero she would undoubtedly be Wonder Woman. This is primarily due to the fact that she is a single mom to two boys, one of which is a teenager … yikes!  She also works full time AND attends college.  Honestly, we think Wonder Woman could use some of Daniele's talent and energy.  We are certainly glad she is on the RMTD team.  Thank you Daniele.
Wednesday, May 16, 2018 – Jason Martindale
Jason has been a Parat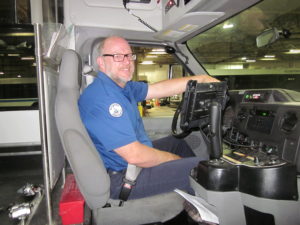 ransit Operator since he started at RMTD over 2 years ago. Currently Jason can be found in the Stateline area as he is doing the Stateline Mass Transit routes.  Jason will tell you that he loves all aspects of his job as a Paratransit Operator but the interaction he has with his passengers everyday tops his list of favs.
Jason knows firsthand how our service can directly and positively impact people's lives. His riders use paratransit to do all sorts of things in addition to going to medical services.  Riders go shopping, visiting, and to school and for many this is their only means of transportation.  Being able to guide the conversation and keep things positive on his bus so that everyone is comfortable and friendly is Jason's super power.
Since he started here, Jason will tell you that the increase in ridership is what he has noticed the most in recent months. I guess people are catching on about how great the service is and how wonderful our drivers like Jason are.  Thank you Jason for all of your hard work.
Tuesday, May 15, 2018 – Tricia Reed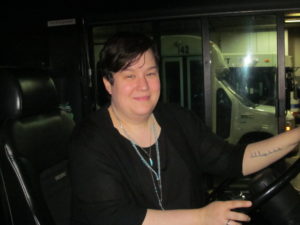 Ms. Reed has been working at RMTD for 5 years now. She is our Finance Assistant and handles paying the bills and all the bookkeeping that goes along with that job.  Tricia enjoys that though.  As she likes to say "all the little details come together at the last minute.  Each little scrap of information that doesn't mean much on its own comes together to form one big picture."  We appreciate the fact that someone keeps things organized and running smoothly and we are certain our vendors appreciate getting paid in a timely fashion thanks to Tricia.
One of the things that makes Tricia excited to come to work each day is the building of the new Transfer Center and the positive effect it will have on our passengers.
When asked which super hero Tricia can best relate to, without hesitation she responds "her mom". Tricia said she likes to be as much like her mom as she can as her mom is "always a hard worker, and just always gets on with things and does what needs to be done, no matter what.  She is the most generous person".  We at RMTD think mom set a good example and appreciate these qualities in Tricia.  Thank you for all your hard work Tricia and thanks mom for passing on such valuable qualities.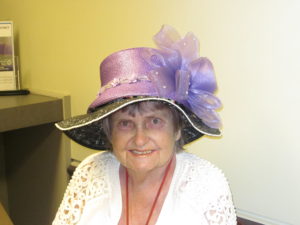 May 14, 2018: Elva Damon – RMTD would like to thank our loyal rider Elva Damon for over 40 years of ridership. Not only has Elva used RMTD most of her adult life but her husband and her daughter also used RMTD.  Elva tells how her husband would accompany her daughter to Auburn High School back in the day.
Before retiring, Elva was a transcriptionist for DCFS and used RMTD to get to and from work. Now Elva uses RMTD to go to one of her favorite destinations, North Towne.  She rides all the bus routes and has seen many changes at RMTD.  One thing though that Elva said has not changed are the drivers.  In Ms. Damon's opinion our operators are some of the nicest people around.  She loves riding with Pat Wilkens and Bernard Barnes and remembers Larry Smith always had a joke for her, even though some of Larry's jokes were real groaners.  Just recently Elva called to tell us how impressed she was as she witnessed Darrell Mitchell assist an elderly lady off the bus and across the street.  Now that's service!
A very talent singer and organist, Elva provides music for her church and friends and she loves to perform karoke at Nyes when she visits her daughter in Minneapolis. Elva, you are a bright spot in everyone's day and we all say thank you for using RMTD. We appreciate you!
SMTD Application:
If you live in Roscoe, Rockton, Rockton Township or South Beloit and you would like to ride with Stateline Mass Transit District, please download the attached application and mail it to 520 Mulberry Street, Rockford, IL 61101. After we receive your application and you have received the welcome packet, you can call toll free, 877.561.3330 to schedule a ride
SMTD Service Application FINAL 031210
Please note that anyone wishing to book a ride on Stateline Mass Transit once service begins needs to have an application on file. SMTD applications can also be obtained by contacting the respective Village or City Halls. Once completed, applications can be sent to 520 Mulberry Street for entry into the computer system.